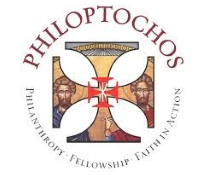 The Artoklasia is a service held at the end of Vespersor at the end of Orthros, or even at the end of the Liturgy. Five round loaves of bread are offered by individual faithful as a sign of devotion for personal or family anniversaries such as name-days and other occasions bearing close connection with the experience of the Orthodox. The five loaves are reminiscent of the five loaves that Jesus Christ blessed in the desert and by which five thousand of his hearers were fed.
THE LADIES OF PHILOPTOCHOS ARE RESPONSIBLE FOR MAKING THE ARTOKLASIA. PLEASE CONTACT THE CHURCH OFFICE FOR REQUESTING "ARTOKLASIA" OR THE FIVE LOAVES OF BREAD. PLEASE GIVE THE FOLLOWING INFORMATION: NAME, DATE REQUESTED.
THE COST FOR THE 5 LOAVES IS $100. PLEASE MAKE CHECKS PAYABLE TO "HOLY TRINITY PHILOPTOCHOS" PAYMENT IS REQUESTED BEFORE OR DAY OF.